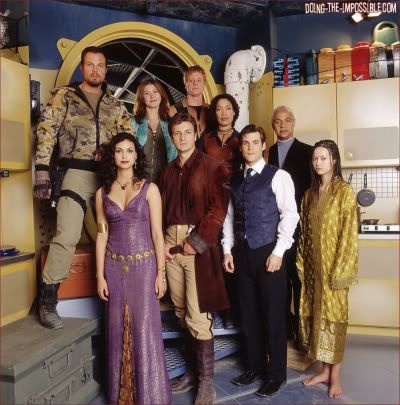 Hey guys, just wanted to remind you to watch Serenity, now in theaters!
I had the pleasure of watching a pre-screening on Tuesday night, thanks to the local newspaper, and I also went to a 12:01 showing last night/this morning, however you look at it. Yes, I wore my Browncoat like the geek I am. (Of course, it was faaar too hot to wear for the whole night, so I had to take it off and just leave my Mal/Zoe hybrid outfit on.)
It's all kinds of good, even if it's not *exactly* like Firefly. The tone is different, but I like it. Hopefully I'll catch it tomorrow at the first showing.
But please, please go see this movie. Joss and Co. worked so hard to make this, and it is fantastic. It's a sci-fi movie with actual people (who are awesome) and great dialogue. (Imagine that!) Also, look at the cast! They are so. very. pretty. If it makes 80mil, we get a sequel, and possibly the show will return. This would be a good thing. So please visit your theater and take a wild ride round the 'Verse. We'd love to have ya along.
Here's some links to help you with various stages of Browncoat-ism:
The show that started it all:
http://www.amazon.com/exec/obidos/tg/detail/-/B0000AQS0F/qid=1128130502/sr=1-1/ref=sr_1_1/104-7178700-7802344?v=glance&s=dvd
The Serenity spoiler discussion:
http://www.livejournal.com/users/brenah/21855.html#cutid1
The official site:
http://www.serenitymovie.com/
The IMDB listing:
http://www.imdb.com/title/tt0379786/
The shiny soundtrack:
http://www.amazon.com/exec/obidos/tg/detail/-/B000AYYUGQ/qid=1128130072/sr=2-1/ref=pd_bbs_b_2_1/104-7178700-7802344?v=glance&s=music
A great book for Browncoats and script lovers alike:
http://www.amazon.com/exec/obidos/tg/detail/-/1845760824/qid=1128130127/sr=2-2/ref=pd_bbs_b_2_2/104-7178700-7802344?v=glance&s=books
For screencaps/promo shots:
http://still-flying.net/
Awesome screencap site:
http://www.livejournal.com/users/_jems_/121078.html